May Market Report
Monthly Market Report
May 2016
US markets
Stock prices were mixed in April as the Dow Jones Industrial Average rose 0.5 percent and the Standard & Poor's 500 Index added nearly 0.3 percent while the NASDAQ Composite fell 1.94 percent.
Stock prices were lower early in the month, interrupting a rally that began in mid-February, but quickly moved higher on renewed hopes of a coordinated effort by oil producers to manage supply, dovish comments made by Janet Yellen, favorable economic data out of China and a better-than-expected kick off to earnings season.
Eyes on Tech Sector
Stocks continued to move mostly higher as the month marched on. Large cap benchmarks neared their 2015 peak before falling back, though the NASDAQ Composite index was weighed down by disappointing earnings in the technology sector.
In the wake of a very weak GDP report, and amid disappointing earnings in the technology sector, stocks slid in the final week of trading, even as the Fed left interest rates unchanged.
April heralded the first-quarter earnings season and based upon the 55.0 percent of companies in the S&P 500 reporting results, overall earnings are expected to decline by 6.1 percent by the time earnings season ends. If this trend holds, corporate profits will have declined for the third-straight quarter, making it the longest slide since the 2008 financial crisis.
If there was a common thread to this earnings season it was one of layoffs and restructuring as earnings announcements were coupled with notices of downsizing across many industry sectors, from energy to technology and from railroads to industrials.
Sector Performance
The majority of industry sectors in the S&P 500 registered gains for the month, led by Energy (+9.92 percent), Materials (+5.90 percent) and Health Care (+5.51 percent). Also posting positive performance were Industrials (+2.45 percent), Consumer Discretionary (+1.16 percent) and Financials (+4.74 percent). Three sectors suffered declines, including Technology (-2.32 percent), Utilities (-1.23 percent) and Consumer Staples (-0.36 percent).3
World Markets
Overseas markets turned in a solid performance, propelled by a rally in commodity-related sectors, strong economic data from China and a rebound in bank stocks. The MSCI-EAFE Index closed out April with a gain of 2.80 percent.4
Several individual markets in Europe experienced strong gains, including Norway and Spain. Major markets fared less well, but the U.K., France and Germany notched solid gains.5
Australia and Hong Kong led the Pacific Region with strong gains.6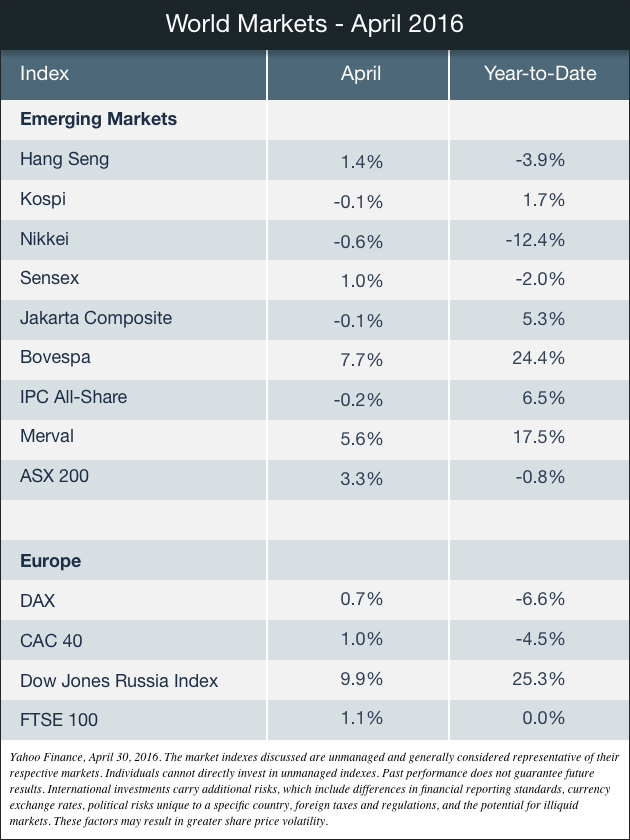 Indicators
Gross Domestic Product: Posting the worst performance of economic output in two years, GDP for the first quarter of 2016 grew at a rate of 0.5 percent. A deceleration in consumer spending and a decline in business spending were major contributors to the slowdown in this quarter's number.7
Employment: The economy continued to add jobs at a robust pace, as factory activity grew for the first time since last summer. Nonfarm payrolls increased by 215,000 in March, though the unemployment rate crept up to 5.0 percent, an uptick attributable to the nearly 400,000 workers who came off the sidelines to seek work.8
Retail Sales: Lower auto sales led to a decline of 0.3 percent in retail sales. A pullback in consumer spending may reflect slow wage growth, along with turmoil abroad. 9
Industrial Production: Industrial output fell 0.6 percent from the previous month, the sixth decline in the last seven months. In comparison to March 2015, the decrease was 2.0 percent. Reflecting this weakness, capacity utilization fell by a half of a percentage point to 74.8 percent, over 5 percentage points below its average since 1972. 10
Housing: Led by a sharp downturn in the Midwest, housing starts fell 8.8 percent from the prior month, though they were up 14.2 percent from March of last year. 11
In contrast, sales of existing homes rose 5.1 percent, overcoming a shaky start to the year. Sales gains were particularly strong in the Midwest and Northeast.12
Meanwhile, sales of newly built homes declined for the third straight month, falling 1.5 percent. 13
CPI: The prices of consumer goods rose 0.1 percent, marking their first rise in four months. Over the last twelve months, the CPI increased just 0.9 percent, a sharp deceleration from the 2.2 percent jump from a year earlier. The costs of shelter and medical care services have seen the faster price increases, while food and apparel prices have been declining. 14
Durable Goods Orders: New orders for durable goods rose 0.8 percent, propelled by defense spending. Demand, however, from businesses and consumers weakened in March. 15
The Fed
In an announcement following its two-day meeting in April, the Fed left interest rates unchanged.
The statement reiterated its intention to raise the federal funds rate, but it remains uncertain if this will occur at their June meeting given the economy's sluggishness and the potential of a U.K. exit from the European Community. 16
What's Ahead
A strong U.S. dollar has exerted a powerful influence on the domestic stock market and overseas economies for the past couple of years.
The dollar strength against other world currencies has been due, in part, to a relatively stronger U.S. economy and expectations of a tighter monetary policy, which stood in contrast to other countries' moves toward a more accommodative monetary policy.
A Fed trade-weighted dollar index gained 19 percent over the last two years, nearing rallies experienced in 1979 and 1995.17
This has had broad repercussions, primarily hampering U.S.-based multinationals by making their products more expensive in markets overseas and reducing their foreign revenues when converted to dollars. A strong U.S. dollar has also been a contributing factor in the steep decline in oil prices since oil trading is done in U.S. dollars.
The dollar rally may have started showing some signs of exhaustion. In April, the U.S. dollar hit a one-and-a-half year low in response to the Fed's pullback on the pace of rate hikes.18
A weaker dollar may help multinational companies earn better profits, but imported goods may become more expensive and oil prices could climb higher.
If the U.S. dollar continues to weaken against global currencies, investors may begin to see a rotation in stock market leadership, by size of company or industry sector, as well as the potential for improved returns on international markets.
By The Numbers
Mother's Day
Total number of moms in the U.S.: 85.4 million 19
Population of France: 66 million 20
Annual total amount spent on mothers for Mother's Day in the U.S.: $20.7 billion 19
Amount spent on flowers: $1.9 billion 19
Amount spent on cards: $671 million 19
Difference in spending between Mother's Day and Father's Day:
$5.9 billion21
Average amount individuals spend on their mothers: $168.94 19
Most requested Mother's Day gift: Something homemade (36%) 19
Number of years Americans have been celebrating
Mother's Day: 10222
Market value of mothering, if it were a full-time job: $65,284/year 23
Percent of people who think mom should earn more: 33% 23
Percent who think mom should earn less: 43% 23
Average number of children born per woman in the U.S.: 1.87 20
Average number of children born per woman in Niger: 6.8 20
Average age of first-time moms in the U.S.: 26.324
Number of hours a day women spend on household chores:
2 hours 9 minutes 25
Number of hours a day men spend: 1 hour 22 minutes 25
Percent of mothers with children at home who work
outside the home: 70% 25
Weight of the heaviest baby ever born: 22lbs, 8oz 26
Age of the oldest mother to give birth without
the aid of fertility treatments: 59 27
The content is developed from sources believed to be providing accurate information. The information in this material is not intended as tax or legal advice. Please consult legal or tax professionals for specific information regarding your individual situation. This material was developed and produced by FMG Suite to provide information on a topic that may be of interest. FMG, LLC, is not affiliated with the named representative, broker-dealer, state- or SEC-registered investment advisory firm. The opinions expressed and material provided are for general information and should not be considered a solicitation for the purchase or sale of any security.
Investing involves risks, and investment decisions should be based on your own goals, time horizon and tolerance for risk. The return and principal value of investments will fluctuate as market conditions change. When sold, investments may be worth more or less than their original cost.
Any companies mentioned are for illustrative purposes only. It should not be considered a solicitation for the purchase or sale of the securities. Any investment should be consistent with your objectives, time frame and risk tolerance.
The forecasts or forward-looking statements are based on assumptions, may not materialize and are subject to revision without notice.
The market indexes discussed are unmanaged and generally considered representative of their respective markets. Individuals cannot directly invest in unmanaged indexes. Past performance does not guarantee future results.
International investments carry additional risks, which include differences in financial reporting standards, currency exchange rates, political risks unique to a specific country, foreign taxes and regulations, and the potential for illiquid markets. These factors may result in greater share price volatility.
Please consult your financial advisor for additional information.
Copyright 2016 FMG Suite.
1. The Wall Street Journal, April 30, 2016
2. The Wall Street Journal, April 28, 2016
3. Interactive Data Managed Solutions, April 30, 2016
4. MSCI.com, April 30, 2016
5. MSCI.com, April 30, 2016
6. MSCI.com, April 30, 2016
7. The Wall Street Journal, April 28, 2016
8. The Wall Street Journal, April 1, 2016
9. The Wall Street Journal, April 13, 2016
10. The Wall Street Journal, April 15, 2016
11. The Wall Street Journal, April 19, 2016
12. The Wall Street Journal, April 20, 2016
13. The Wall Street Journal, April 25, 2016
14. The Wall Street Journal, April 14, 2016
15. The Wall Street Journal, April 26, 2016
16. The Wall Street Journal, April 28, 2016
17. Bloomberg Markets, April 11, 2016
18. Bloomberg Markets, April 11, 2016
19. StatisticBrain.com, March 17, 2015
20. CIA Factbook, 2015
21. StatisticBrain.com, March 18, 2015
22. Time.com, May 10, 2015
23. Insure.com, May 4, 2015
24. NPR, January 14, 2016
25. Bureau of Labor Statistics, 2015
26. GuinnessWorldRecords.com, 2016
27. The Telegraph, August 20, 2007 (latest reported case)